In July and August, Vinje municipality is hosting a master's student from the University of South-Eastern Norway (USN) for a summer project. Mission: To come up with ideas about how the sustainability concept can be integrated in Vinje's business support strategy.
As part of COM³, Vinje collaborates with USN to support local businesses and facilitate business development. The municipality is currently developing a new business support strategy.
This summer, Liv-Randi Røyset is working for the Vinje and USN pilot. She's a master's student at USN's sustainability management programme in Bø, and will help Vinje with some input on the business support strategy. How can we set goals that contribute to sustainable business development in Vinje? What different actions may support these goals? And how do we measure and evaluate our work? These are some of the key questions Liv-Randi is working on.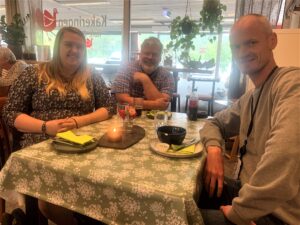 On 14 and 15 July, Liv-Randi and COM³ project manager Kyrre Hegg did a small tour of Vinje. They met with the head of business support and some of Vinje's local businesses, and had interesting discussions about sustainability and business development.
Do you want to learn more about the COM³ Vinje and USN? Discover their pilot story here.