Enhancing digitalisation within industrial asset management
Digitalisation has become a buzzword and many companies forget to ask the essential question before they implement digital tools: "how digitalisation can help me grow my business?"
As part of North Sea Region project COM³, the University of Stavanger and the Cluster for Industrial Asset Management (CIAM) accompany companies on their way to digital transformation. Through expert workshops and educational events, companies learn to think about digitalisation into their own context and are guided to identify which processes are worthwhile to digitalise. A special focus is on the digitalisation within industrial asset management.
Digital solutions for many business problems exist already, but companies struggle to implement the solutions which will really help them grow. There is a tendency to implement digital solutions because SMEs are told it will help them earn more money. However, it instead often causes more expenses, which are not covered by more income.
In a regional context, companies have to maintain a sustainable growth to be able to employ more people. Digitalisation can be an answer to this challenge, but it must solve the core problems of the companies.
The University of Stavanger and CIAM share with individuals and companies various tools and methodologies to successfully establish and run a business. They introduce participants for example to recognized management approaches, like the LEAN approach from the MIT. This methodology aids companies in identifying business processes that are most suitable for digitalisation.
In parallel, the University of Stavanger and CIAM bring together smaller and larger businesses as well as municipalities and other business support organisations to spread knowledge on utilizing digital technologies.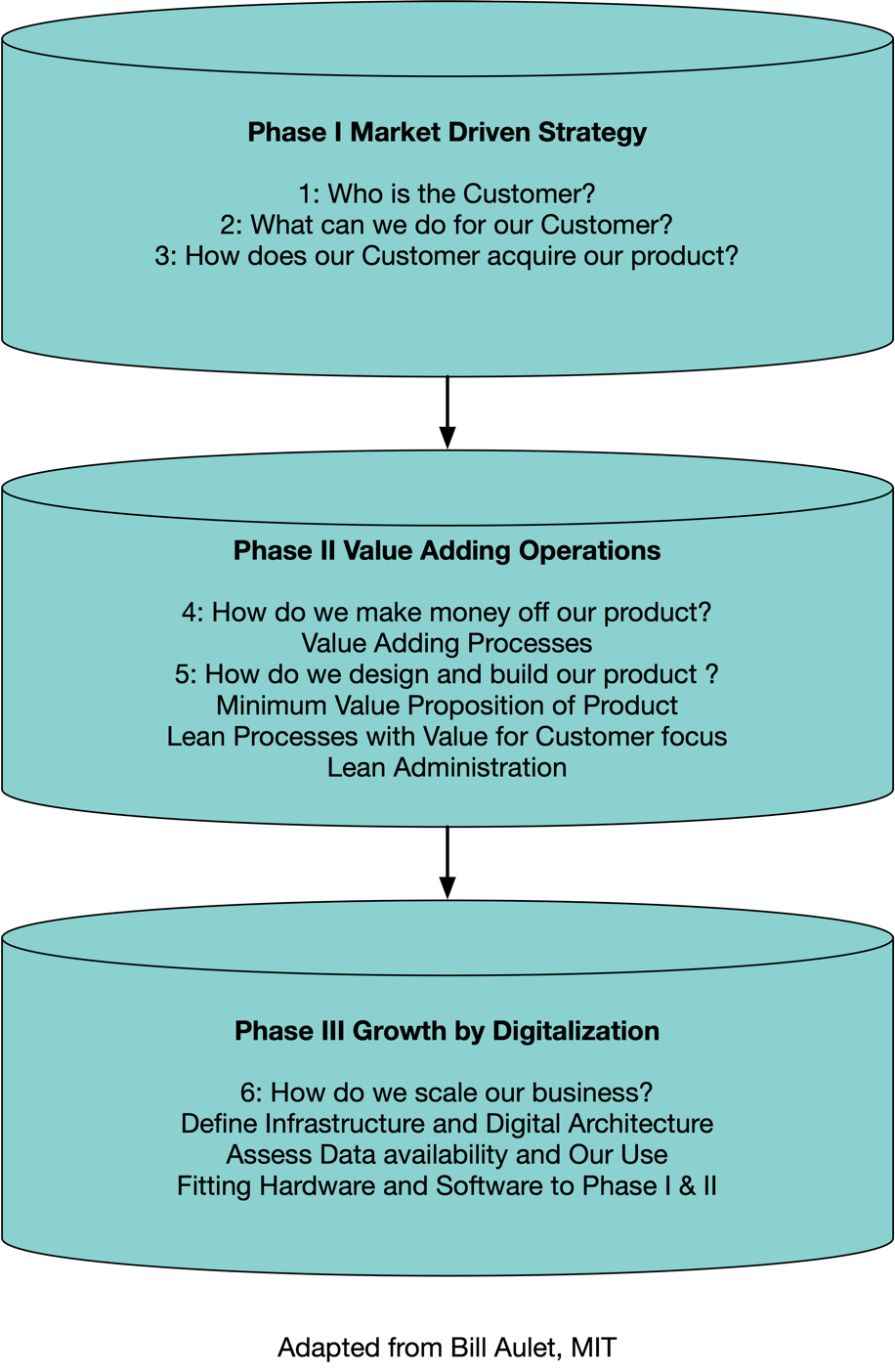 The combination of well-known methodologies (Entrepreneurship and Lean) put into a digitalisation context has proven to have a great potential. We do not know about other digitalisation initiatives which have this pull-approach where the need for digitalisation first are thoroughly explored before starting the digitalisation process. Often the digitalisation is pushed into the companies just assuming it will help the company becoming more profitable.
Expected results and outcomes
In the beginning, Eight small companies and two intermediary organisations participated in the first part of the concept. Feedback from these was good and the concept could be extended to more companies and organisations.
After three years, 142 SMEs in the region have been analyzed by 700 students regarding status, growth and digitalisation using only publicly available data:
around 53% of the surveyed companies are incorporating digital technology into their products.
around 80% of the companies surveyed are using digital tools to streamline their internal processes
around 50% of the companies surveyed are using digital technology to improve their supply chain management
around 29% of the companies surveyed are using digital technology to improve their distribution processes
During this first test of the concept, some points become clear. First, a big portion of the learning for the companies is to interact with the other participants. This was achieved by giving the companies challenges to solve between the meetings and presenting these to the other participants. This boosted the discussions and the learning process. Second, the presentations need to be adjusted to the participants. Examples which are relevant to the companies are essential for them to be able to relate and put the methodology into their own context.
From the student reports we see that many companies in the region utilize digital tools in their activities. To enable further growth the digitalisation has to be integrated with all parts of a company, and this is an organizational learning process.
To cope with this, the CIAM network organises meetings including companies and universities. During the COM³ project, 50 meetings related to digitalisation have taken place with around 80 companies and around 450 unique persons participating in one or more meetings.