Intercommunale Leiedal is the regional public partner for 13 municipalities in South-West Flanders. Its core activity is urban and regional development. To make regional planning attractive, sustainable and competitive, Leiedal aims to develop a smart region, where innovation is crucial. Among others, Leiedal plans to create future-proof business parks, where the involved companies have the competencies to be efficient, lean, sustainable and future-proof.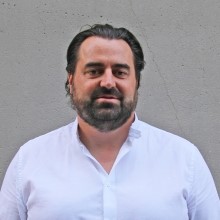 Kris Dekeyzer
Project Manager
Intercommunale Leiedal


0032 477481135

Kris.dekeyzer@leiedal.be

www.leiedal.be



Intercommunale Leiedal is lead partner of the COM³ project and part of the project management team together with atene KOM. At a daily basis, Leiedal carries out activities at the level of communication, finance and communication management.
In the regional COM³ pilot activities called "Imagineering of data", Intercommunale Leiedal, in collaboration with Designregio Kortrijk, wants to address the regions' key policy priorities and get to work with companies that want to use data to create added value for their business. Own data, enriched with open data or available data from other interested companies in order to develop an innovative, socially and economically responsible product, service or process. Furthermore, Leiedal contributes to mainstreaming the COM³ findings to other regions, national authorities in Belgium and at EU level.

Intercommunal Leiedal is the Lead Beneficiary in CORA and coordinates all project management tasks jointly with atene KOM.
In terms of project content, Leiedal focuses on measures to improve digital competences of stakeholders in rural areas. Connectivity, smartness and effective digital services delivery are among the main targets of Leiedal. As an intercommunal organisation, Leiedal aims to connect urban and rural areas in South-West-Flanders through an open fibre network, supporting the development and deployment of new digital services and collection of valuable data. The first component of Leiedal pilot activities was the establishment of an open access fiber network. A second component focusses on development of valuable digital services and collection of data in favour of local authorities. Through developed services, a web of sensors and the collected data, Leiedal offers valuable insights and understandings to rural local governments for all kinds of spatial-related services, e.g. identifying required infrastructure changes in streets, houses, traffic signs, assessing dangerous traffic and mobility situations, easily performing accurate measurements and low-cost analysis.
A third important component, is informing and training of co-workers of local authorities and organisations, teaching them how to make use of these tools and data in their daily activities. Through these activities CORA and Leiedal give great opportunities to small and rural municipalities to step up and surpass the digital divide.