COM³ partners are thrilled to announce the publication of a new e-learning course titled "Reaching the 'Hard-to-Reach' Entrepreneurs in Processes of Innovation and Digitalisation". This course has been designed to help municipalities, regions, and business support organisations to better understand and target their efforts towards entrepreneurs who are often overlooked by business support initiatives.
In today's rapidly evolving business landscape, innovation and digitalisation are critical to maintaining competitiveness. However, some entrepreneurs remain 'hard-to-reach' despite the best efforts of local and regional support organisations. The new e-learning course developed by the University of Groningen will provide an overview of who these entrepreneurs are and equip staff and developers with the tools to better understand and engage with them.
The course explores the importance of identifying local and individual drivers to go digital, and provide examples of success stories and good practices. Patience will be a key ingredient in reaching these entrepreneurs.
The course is available online free of charge. We encourage anyone interested in supporting entrepreneurs in processes of innovation and digitalisation to take advantage of this opportunity.
Click on the picture below to access the e-learning course: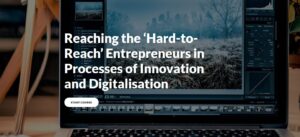 We believe that this e-learning course will contribute to creating a more inclusive and prosperous business environment, where all entrepreneurs, regardless of their background or circumstances, have equal opportunities to thrive.
Besides this training solution, COM³ partners at the University of Groningen produce two e-learning courses that encourage staff and developers in municipalities, regions, and business support organisations in building a rural digital entrepreneurial ecosystem: